Ibiza Island
As the Mediterranean's main tourist destination, the Illes Balears enjoy excellent air links with Spain and the principal cities in Europe and the world.

The island offers a wide choice of agro tourism, another kind of accommodation which immerses you in the local charm and tradition. On the leisure side, Ibiza offers a host of activities with amongst others excursions in the countryside, horse riding, cyclo tourism, cultural sites and gastronomical itineraries.


You can reach the island either by plane or ship. Ibiza has its own airport, Sant Josep, set in the southern part of the island. Several airlines provide direct access from the Spanish Peninsula and Europe.

The three main ports are the ports of Ibiza, Santa EulÓria and Sant Antoni. The ferry companies -Balearia, Iscomar and Acciona- sail to the ports of Ibiza and Sant Antoni from different places on mainland Spain.

Apart from the ferry crossings, it is also possible to reach the island by private ship, chartered crossings and various cruises. The regular sea crossings reach the island of Ibiza from Barcelona, Valencia, DÚnia and Palma de Mallorca.

Link of Interest:
Ibiza Official Tourism Site


HOW TO ARRIVE

By Air:

Ibiza Airport (Sant Jordi)

Just 7.5 km from the capital, and perfectly connected to the most important tourist centers, the Ibiza airport is the island's primary communications artery. The airport facilities serve Ibiza and Formentera, and they are used by 95 per cent of all people who arrive at or depart from these islands.

Ibiza airport is characterized by the seasonal nature of its demand and by its predominantly tourist character. It also offers very important scheduled inter-island and mainland traffic, with flights centering on the management or business hubs, such as Barcelona, Madrid-Barajas and Palma de Mallorca, with constant distribution characteristics throughout the year.

Ě Address: 07817 Sant Jordi de Ses Salines. San JosÚ Ibiza/Balearic Islands
Ě Telephone: (+34) 91 321 10 00 902 404 704
Ě E-mail: ibizaclientes@aena.es7

Flights to Ibiza:


By sea:

The main ports in the Illes Balears are Palma de Mallorca, Alc˙dia (Mallorca), Maˇ (Menorca), Ciutadella de Menorca, Ibiza and La Savina (Formentera). Arriving by sea is spectacular, especially if you do so via the port of Maˇ (regarded as the "Pearl of the Mediterranean") or Ciutadella, both in Menorca.




The Illes Balears have a highly-developed network of marinas for anyone wanting the thrill of arriving in their own boat.

The Illes Balears are also a port of call for many cruises which stop here so that their passengers can enjoy the fabulous setting. Besides this, there are also regular ferries connecting the islands every day.

Sea transport from the Spanish mainland:

Acciona Trasmediterranea: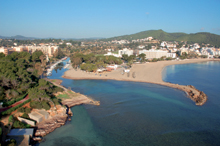 Daily ferries from Barcelona and Valencia to the ports of Palma de Mallorca, Ibiza and Maˇ (Menorca).
http://www.trasmediterranea.es

BaleÓria EurolÝnies MarÝtimes:
BaleÓria runs the DÚnia-Ibiza-Palma de Mallorca route.
http://www.balearia.com